LATEST NEWS
Need info .

Website is currently being developed so please check out updates


»

View More News...


---
Contact
Wallasey
Junior classes
Tues & Thur 6pm - 7pm
Senior classes
Tues & Thur 7pm - 9pm


---
Woodchurch
Junior classes
Wed 6pm - 7pm
Friday 6pm - 7pm


---
steve@12quays.co.uk
M: 07717 346 239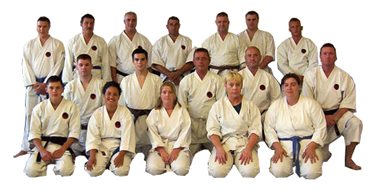 Welcome to 12 Quays karate club
Sensei, Steve Hallam, founded the 12 Quays karate club 1995. The club was initially based at the Wallasey Martial Arts Centre before moving to its current location at the 12 Quays in 2001. Due to previous success the club is in the process of expanding to a secondary site in Woodchurch on the 1st February 2006.


---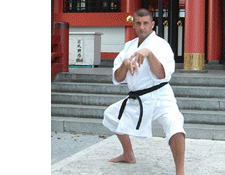 Sensei, Steve Hallam
Started training in Shotokan in 1974 before moving to Goju Ryu in 1981. Awarded his 7th Dan (Nanadan) by Morio Higaonna Sensei in November 2015.

The style of karate practised is traditional Okinawan Goju-ryu. Training is based on discipline, etiquette and hard work; it is geared towards effective self-defence. It should be noted that this a traditional club that does not stress any sporting aspect whatsoever.

A typical lesson commences with a traditional warm up (Junbi Undo). Then tuition is given in some or all of the following: Kihon (basic techniques), kata and bunkai (patterns & applications), kakie (pushing hands) and kumite (sparring). However, no two lessons are the same.

The club is affiliated to the International Okinawan Goju-ryu Karate Do Federation (IOGKF) and the English Goju-ryu

Karate Association (EGKA). Gradings of up to 1st Kyu are carried out at the club by the club instructors. Black belt gradings are carried out by Ernie Molyneux Sensei at the annual Gasukus held at Bournemouth and Liverpool.


---
JUNIORS
This area is dedicated to our hard working juniors


»

View Juniors

JUNIORS GALLERY
This section is dedicated to our hard working juniors.


»

View Juniors Gallery